Built for rigging short worms and Stickbaits for finesse presentations.
Stand-up Head
1/0 Black Nickle Light Wire Hook
1/16 oz
3/16 oz
5 per pack
Customer Reviews
10/13/2020
Christopher F.
United States
This is what I want!
It's the 1/16 ounce Ned Head jig that I have been looking for! I didn't know where it was made,but I took a chance and found out they are made in the USA. From now on I would like my tackle to be made in the USA.Like someone else said the bait keeper is a little large,but I took a pair of side cutters and shortened it just a tad,now its perfect! Won't rip a bait while putting it on.Hook is the right size and sharp! Great product.
08/26/2020
Jaret R.
United States
DeD
I've talked with Greg about this particular jig head but there is one major concern I have in that the keeper is very wide. For the Arkie Stick or other stick baits when utilizing it as a Ned rig jig head, the keeper will typically rip the plastic upon entry and limit the number of times you can set the hook. Other than that, I like the design and the product!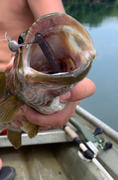 08/24/2020
Mark M.
United States
great mushroom head jigs
I like these a lot. The shank is a nice length and the bait keeper allows me to use very slender soft plastics. My only complaint is they need to come in more weights. It's kind of nice, because you can put these inside tubes, as well as having them used the way they were designed. Versatile hooks find more space in my tackle box.
Thank you for your review!